My first question while doing my taxes was "What the fuck did I do with all that money?
My second question was "How in the hell am I going to pay this bill?" This is, of course in direct relation to my current underemployment status, which sucks, but I have this sneaking feeling that the IRS couldn't car less about my financial dilemma. Fuckers.
ok,so I didn't get all that stuff done yesterday, cause I spent two ours doing my brothers taxes. I had thought I was through with theirs, but we got rejected by the IRS and thank GODS we did, cause we submitted the wrong draft and instead of a refund which they could then use to pay their state taxes, it said they owed...a lot. So, I fixed all that, added something I'd omitted, and got them printed and mailed. Thursday I have to pay the piper. Not a minute before.
Rode the bike a bit yesterday for the first time this year. I'm feeling pretty good considering how far I rode. I hadn't intended to go 10 miles but next thing I knew I was 5 miles out and having too much fun, so I turned around. I thought I'd be sore today but I'm not really. Going out in just a bit again for a morning ride before work.
I don't think my scales work. No, seriously, stop laughing. I got up this morning and they said I weighed 179.6. I went back to bed for 45 minutes and got back on them and they said I weighed 184.3. I'm sticking with 179. We'll see when I put pants on this afternoon.
Got the cast picture re-sized and framed yesterday. On Saturday I went to Hobby Lobby and Bought frames and frames he poster and re-framed a poster from the first show I directed a decade ago that was never framed properly, added the show to my CV and put the program in my portfolio. Done.
Turning my attention to the article below, which I've been avoiding. Yet another exercise in hypocrisy by the catholic Church. I'd work out my hatred of that organization in this post, but I'm certain there isn't enough room. I was never molested, I was never sexually-abused, BUT, I did suffer from the rampant hypocrisy, and the constant denial of reality. I have noted before that those people don't celebrate their faith, they mourn it, and go around way-laying themselves with self-hatred all the day long. And they expect their followers to do the same. it's unconscionable.


And after wielding shitloads of political power for centuries they cash it all in for this:
Connecticut bishops fight sex abuse bill
April 11, 2010 10:30 p.m. EDT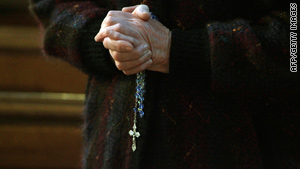 The proposed change would put "all Church institutions ... at risk," a letter from Connecticut's Catholic bishops says.
Hartford, Connecticut (CNN)
-- A bill in Connecticut's legislature that would remove the statute of limitations on child sexual abuse cases has sparked a fervent response from the state's Roman Catholic bishops, who released a letter to parishioners Saturday imploring them to oppose the measure.
Under current Connecticut law, sexual abuse victims have 30 years past their 18th birthday to file a lawsuit. The proposed change to the law would rescind that statute of limitations.
The proposed change to the law would put "all Church institutions, including your parish, at risk," says the letter, which was signed by Connecticut's three Roman Catholic bishops.
The letter is posted on the Web site of the Connecticut Catholic Public Affairs Conference, the public policy and advocacy office of Connecticut's Catholic bishops. It asks parishioners to contact their legislators in opposition of the bill.
The "legislation would undermine the mission of the Catholic Church in
Connecticut
, threatening our parishes, our schools, and our Catholic Charities," the letter says.
The Catholic archdiocese of Hartford also published a pulpit announcement on its Web site, which was to be read during Mass on Sunday, urging parishioners to express opposition to the bill.
The bill has been revised to address some of the church's concerns about frivolous abuse claims against it, according to Connecticut state Rep. Beth Bye, one of the bill's sponsors.
"The church didn't recognize that this bill makes improvements," Bye said. "The victims -- their lives have been changed and some will never recover from years of sexual abuse. For me, it's about giving them access to the courts."
Under the bill's provisions, anyone older than 48 who makes a sex abuse claim against the church would need to join an existing claim filed by someone 48 or younger. Older claimants would need to show substantial proof that they were abused.
"They were worried about frivolous lawsuits and so we made the bar high," Bye said.
The bill does not target the Catholic Church, she said.
The bishops' letter raised concerns that the bill would allow claims that are 70 years or older, in which "key individuals are deceased, memories have been faded, and documents and other evidence have been lost." The letter said that the majority of cases would be driven by "trial lawyers hoping to profit from these cases."
The bill passed in Connecticut's House of Representatives, and Bye said the state Senate should vote on it in the next week or two.
And so it goes: